Professional Catering
E
vents anywhere on the west coast: retreats, weddings, graduations, meetings, grand openings, movie premieres, and private dinners. Our satisfied clients include PCRM (Physicians Committee for Responsible Medicine), New College of California, The School for Natural Vision, Nature's First Law, Woody Harrelson, Yoga Tree, National Essene Gatherings, future of Food filmmaker Deborah Koons Garcia and many, many more! Pick from an array of awesome appetizers, enticing entrees, scrumptious salads, decadent desserts, dazzling drinks & tantalizing treats!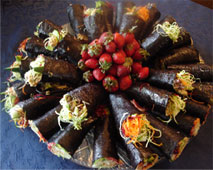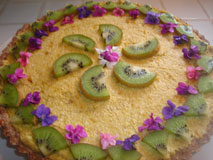 scrumptious sustenance for special occasions of any size
sensational salads
Baby Mesclun Greens w/ a variety of dressings, seasonal veggies and a choice of candied, curried, spiced or tamari nuts
Traditional Waldorf Salad with walnuts and apples
Creamy Asian Slaw with Black Sesame Seeds
Magic Marinated Kale Salad with seaweed
Sensational Sea Vegetable Salad with a choice of condiments
Greek Salad with Sun dried Olives, cucumbers and Toamtoes
dressings
A Variety of Vinegarettes: Goji Berry, Rasberry, Sun Dried Tomato, Herbal; Tahini Genie; Caesar; Pepper; Pesto; Wasabi and more!
appetizers (available as starters or platters)
Chaptis with Mango Chutney
Pesto Stuffed Mushrooms
Sushi Pieces: Teriyaki, Mock Salmon, Shitake-Mango Maki
Veggie Skewers with Cacao Barbecue Sauce
Various Dips with Veggie Chips and Flax Crackers
Pesto Pizzettes
Heirloom Tomato Stacks
Mini Burgers with Live Ketchup, Mustard and Mayo
soups
Warm Miso blended with Burdock, Brazil Nuts and Sea vegetables
Faux Pho with Kelp noodles
Spicy Carrot-Avocado LAVA Soup
Coconut Curry
Tom Gai Kai
Green NRG
Cucumber Dill
Cherry Tomato-Marinated Mushroom
Sprouted Lentil with cracked peppercorns
entrees
Pizzas: Hawaiian, Pesto, Samauri, Cheez, Spinach-"Feta"
Veg Noodle Pastas: marinara, alfredo, pesto, putanesca
Nut Loaf with ketchup or barbecue sauce, and mashed un-potatoes
Pad Thai w/ wild jungle peanuts, coconut noodles and lemongrass
Sushi Supreme w/ nama shoyu, pickled ginger and wasabi
Burritos w/ Salsa, Guacamole, Never-Fried No Beans, Macnut Sour Cream
Mediterranean Mezza Plate: Dolmas, Falafel, Hummus, Babaganoush
Indian Thali Plate: Samosa and Chutney, Curries , Raita, Sag Paneer
Luscious layered Lasagna w/ macnut cheez and fresh basil
Raw-violis stuffed with pesto, or macnut cheez
Stir Raw with fresh bamboo shoots and veggies
Enchiladas w/ cacao-mole sauce
'Cheez' Burgers with all the fixin's and jicama fries
desserts and treats
Choc-Raw Raw Chocolate Hearts in five flavors
Raw Fruit Vanilla Dream Cream Pies
Cashew Cheese Cake: Lemon or Raw Chocolate, w/ fruit garnishes
Chewy Cacao Chip and many other flavors of Cookies
Melt-in-your mouth Peppermint Patties
Cacao Chip Maca-roons
Dark Chocolate Goji Berry Fudge
Ice Cream Sundaes w/ assorted toppings
Perfect Parfaits with fresh seasonal fruit and assorted toppings
Chocolate Fondue with fresh seasonal and/or tropical fruit
smoothies and drinks
Magic Maca
Raw Chocolate
Choca-Maca Love shake #9
Stawberry Bliss
Bubblegum
Mocha Madness
Ginger-Jamaica or Mint-Hibiscus Sun Tea
Fresh Vanilla Bean-Goji Berry Elixir
Plus custom menus to suit your culinary, special diet, special occasion or special event needs or wishes!